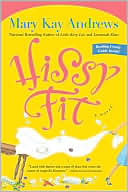 Title: Hissy Fit
Author: Mary Kay Andrews
# pages: 419
ISBN #: 0-06-056464-4
Genre: Romance
Challenge(s): Hometown Challenge
Setting:
Madison, GA
First Sentence: If it had not been for my fiancé's alcoholic cousin Mookie I feel quite sure that my daddy would still be a member in good standing at the Oconee Hills Country Club.
Cover blurb: Keeley Murdock's wedding to A.J. Jernigan should have been the social event of the season. But when she catches her fiance doing the deed with her maid of honor at the country club rehearsal dinner, all bets are off. And so is the wedding. Keeley pitches the hissy fit of the century, earning herself instant notoriety in the small town of Madison, Georgia.
Even worse is the financial pressure A.J.'s banking family brings to bear on Keeley's interior design business. But riding to the rescue -- in a vintage yellow Cadillac -- is the redheaded stranger who's bought a failing local bra plant. Will Mahoney hires Keeley to redo the derelict antebellum mansion he's bought. Her assignment: decorate it for the woman of his dreams -- a woman he's never met.
Only a designing woman like Keeley Murdock can find a way to clear her name and give her cheating varmint of an ex-fiance the comeuppance he so richly deserves. And only Mary Kay Andrews can deliver such delicious social satire. With Hissy Fit, she's created a story as outrageous, dishy, and true as Savannah Blues and Little Bitty Lies.
Reason for Reading: Andrews is a native of St. Petersburg, Florida (where I live now) and lived in Raleigh, NC when she wrote Hissy Fit (where I went to college and lived for 10 years afterward) which seemed to fit the requirements of the Hometown Challenge.
Random Thoughts: A fun, fast-moving mystery with wonderfully wacky characters. All around fun book to read. Great ending. Andrews is a new-to-me author and I'll be adding other Andrews and Trocheck (see below under Interesting Tidbits) books to my TBR list.
Favorite scene(s): When Keeley fills Stephanie's water bottle from the toilet and the dismantling of the fountain at Mulberry Hill.
Interesting Tidbits:
* Andrews started her professional journalism career in Savannah, Georgia, where she covered the real-life murder trials which were the basis of MIDNIGHT IN THE GARDEN OF GOOD AND EVIL.
* Andrews also writes the Callahan Garrity mystery series under the name of Kathy Hogan Trocheck, her real name. You can find out more about her mysteries here.
* Her office is a 10-by-10 foot shed that was recycled from the 1996 Atlanta Olympics. Her husband had it dismantled and moved to their backyard, where they rebuilt it.
Rating: A