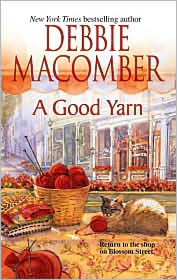 Title: A Good Yarn
Author: Debbie Macomber
# pages: 345
Date published: 2005
Genre: women's fiction
Challenge(s): Series Challenge, Casual Reading Challenge, 888 (hardbacks on my shelf)
Setting: Seattle, Washington
First Sentence:
"Knitting saved my life."
Synopsis from Barnes & Noble.com: You might have heard about a wonderful little yarn store in downtown Seattle. Debbie Macomber can take you there!
In the year since it opened, A Good Yarn has thrived -- and so has Lydia Hoffman, the owner. A lot of that is due to Brad Goetz. But when Brad's ex-wife reappears, Lydia is suddenly afraid to trust her newfound happiness. Elise Beaumont joins one of Lydia's popular knitting classes. Living with her daughter, Aurora, Elise learns that her onetime husband plans to visit and that Aurora wants a relationship with her father, regardless of how Elise feels about him. Bethanne Hamlin is facing the fallout from a divorce and joins the knitting class as the first step in her effort to recover a sense of dignity and hope. Courtney Pulanski is a depressed and overweight teenager. She's staying with her grandmother, who's trying to help by taking her to the knitting class at A Good Yarn.
Four women, brought together by the craft of knitting, find companionship and comfort in each other. Who would've thought that knitting socks could change your life?
Reason for Reading: 2nd book in the Knitting series
Random Thoughts: As with the first book in this series (The Shop on Blossom Street), I love the characters in A Good Yarn. Macomber draws you into her character's lives and I can't wait to see what happens to them. This book focuses on three very different women—Elise Beaumont, Bethanne Hamlin, and Courtney Pulanski—as they get together to learn how to knit socks and be true to themselves. Lydia Hoffman, the owner of The Shop on Blossom Street and her sister Margaret return in this book along with a glimpse at what they and the friends they made in the first book have been up to since the close of the first book. I read A Good Yarn in a day and immediately picked up the third book in the series—Back on Blossom Street.
Favorite part: I really enjoy reading books where each chapter is written from a different character's point of view (all three books in this series do this).
Rating: 4 1/2