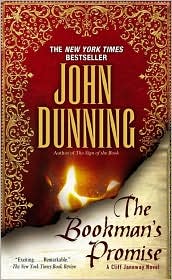 Title: Bookman's Promise
Author: John Dunning
# pages: 469
Date published: 2004
Genre: thriller
Challenge(s): Series Challenge
Setting: Denver, CO; Baltimore, MD; Charleston, SC
First Sentence:
"The man said, "Welcome to Book Beat, Mr. Janeway" and this was how it began."
Synopsis from Barnes & Noble.com: The Bookman's Promise juxtaposes past and present as Denver ex-cop and bookman Cliff Janeway searches for a book and a killer.
The quest begins when an old woman -- Josephine Gallant -- learns that Janeway recently bought at auction a signed first edition by the legendary nineteenth-century explorer, Richard Francis Burton. The book is a true classic, telling of Burton's journey -- disguised as a Muslim -- to the forbidden holy cities of Mecca and Medina. The Boston auction house was a distinguished and trustworthy firm, but provenance is sometimes murky and Josephine says it is rightfully hers.
She believes that her grandfather had a fabulous collection of Burton material, but everything mysteriously disappeared shortly after her grandfather's death. With little time left in her own life, Josephine begs for Janeway's promise: he must find her grandfather's collection. When a friend is murdered, Janeway must find the answers. Someone today is willing to kill to keep the secrets of the past.
Rich with the insider's information that has made John Dunning famous, The Bookman's Promise is riveting entertainment from an extraordinarily gifted author who is as unique as the books he so clearly loves.
Random Thoughts: This is the third book in the Cliff Janeway series. In his search for the Burton books, Cliff's search takes him from Denver to Baltimore and, eventually, to Charleston, South Carolina—with the bad guys on his trail the whole way.
Rating: 3 (good)
Also reviewed by: