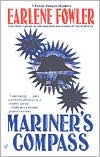 Title: Mariner's Compass
Author: Earlene Fowler
# pages: 322
Date published: 1999
Genre: mystery
Challenge(s): Spring Reading Thing 2008, The Book Awards Reading Challenge (1999 Agatha Award for Best Novel)
Rating: Excellent
Setting: Morro Bay, California
First Sentence:
"When I look back now, these long years later, when age has taught me that the word family is much more complex than I ever imagined, what happened to me all seems so magnified, dramatic in that way things can only be when you're young and your blood flows hot and fast, and tears seem to coat the world, blurring it like dime-store eyeglasses."
Synopsis: Benni Harper is an heiress. Jacob Chandler has left her all his worldly possessions. The only problem is, Benni has never heard of Jacob Chandler. In order to claim her inheritance, however, Benni must stay in this stranger's house for two weeks—alone. Not everyone in Morro Bay is happy about the situation, least of all Benni or her newly-wedded, protective husband, Gabe.
While living in Jacob Chandler's house, with his (and now her) dog, Scout, Benni must figure out why this man has a picture of her in his wallet, a scrap book following her career, 1st marriage, and the death of her first husband, and a wood carving of her childhood horse. Was he obsessed with her? Was he stalking her? She has two weeks to follow Chandler's scavenger-hunt-like clues to discover who this man was and how he is connected to her.
Favorite quotes:
"I thought at the time that my heart would break. I know now that human hearts don't break, they either stretch or turn to stone. I've learned it is not the afters themselves but how we handle them that shapes us, that decides our happiness. I discovered that we all hold the key to joy in our own free will." (p. 2)
"…our losses form a big part of who we are, soften us or harden us, depending on how we take them…" (p. 318)
Random Thoughts: Earlene Fowler tells the stories behind the places (including pictures) that inspired her as she wrote Mariner's Compass at: http://www.earlenefowler.com/MC.html.
Mariner's Compass is the 6th book in the Benni Harper series. The other books, in order of publication, are:
If you click on the links, it will take you to Fowler's web site where she tells the story behind each of the books.