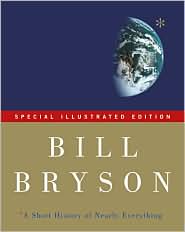 Title: A Short History of Nearly Everything
Author: Bill Bryson
# pages: 595
Date published: 2005
Genre: nonfiction (science)
Challenge(s): The Book Awards Challenge (The Royal Society Science Prize), Summer Reading Challenge, 48-Hour Book Challenge, Personal Science Challenge
Rating:

(one of the best)
First Sentence:
"Welcome. And congratulations. I am delighted that you could make it. Getting here wasn't easy, I know. In fact, I suspect it was a little tougher than you realize."
Synopsis: Bryson touches on all the basic scientific concepts in A Short History – from relativity to genetics to geology. Clearly written and highly readable and entertaining, I'd recommend this book to anyone who would like to learn more about the world around us.
Favorite quote: Here's a great except from the book that shows why I like Bryson's writing style so much:
"In 1787, someone in New Jersey—exactly who now seems to be forgotten—found an enormous thigh bone sticking out of a stream bank at a place called Woodbury Creek. The bone clearly didn't belong to any species of creature still alive, certainly not in New Jersey. From what little is known now, it is thought to have belonged to a hadrosaur, a large duckbilled dinosaur. At the time, dinosaurs were unknown.

The bone was sent to Dr. Caspar Wistar, the nation's leading anatomist, who described it at a meeting of the American Philosophical Society in Philadelphia that autumn. Unfortunately, Wistar failed completely to recognize the bone's significance and merely made a few cautious and uninspired remarks to the effect that it was indeed a whopper. He thus missed the chance, half a century ahead of anyone else, to be the discoverer of dinosaurs. Indeed, the bone excited so little interest that it was put in a storeroom and eventually disappeared altogether. So the first dinosaur bone ever found was also the first to be lost." (p. 103)
This is just one of the little gems in this book. Fascinating, occasionally hilarious, and always informative, A Short History of Nearly Everything should be required reading. If you can get your hands on the Special Illustrated Edition of the book, as I was lucky enough to do, do it, you won't regret it—the pictures are well worth the extra money.
Let's give people a variety of opinions! If you've reviewed this book (or a book by this author), leave me a link to your review in the comments and I'll link to your review, too!