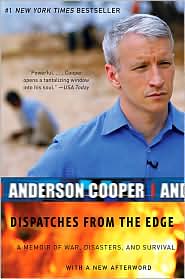 Title: Dispatches from the Edge
Author: Anderson Cooper
# pages: 212
Date published: 2006
Genre: nonfiction (memoir)
Challenge(s): July Book Blowout, In Their Shoes Reading Challenge, 888 Challenge (hardbacks on my shelf), 2008 TBR Challenge
Rating:

(very good)
First Sentence:
"I was ten when my father died, and before that moment, that slap of silence that reset the clock, I can't remember much."
Synopsis: Few people have witnessed more scenes of chaos and conflict around the world than Anderson Cooper, whose groundbreaking coverage on CNN has changed the way we watch the news.
After growing up on Manhattan's Upper East Side, Cooper felt a magnetic pull toward the unknown. If he could keep moving, and keep exploring, he felt he could stay one step ahead of his past, including the fame surrounding his mother, Gloria Vanderbilt, and the tragic early deaths of his father and older brother.
But recently, during the course of one extraordinary, tumultuous year, it became impossible for him to continue to separate his work from his life. From the tsunami in Sri Lanka to the war in Iraq to the starvation in Niger and ultimately to Hurricane Katrina in New Orleans and Mississippi, Cooper gives us a firsthand glimpse of the devastation that takes place. Writing with vivid memories of his childhood and early career as a roving correspondent, Cooper reveals for the first time how deeply affected he has been by the wars, disasters, and tragedies he has witnessed, and why he continues to be drawn to some of the most perilous places on earth.
Striking, heartfelt, and utterly engrossing, Dispatches from the Edge is an unforgettable memoir that takes us behind the scenes of the cataclysmic events of our age and allows us to see them through the eyes of one of America's most trusted, fearless, and pioneering reporters. (from B&N.com)
Random Thoughts: When Anderson Cooper's father and older brother die young, he is afraid that he will never feel anything again. This fear eventually leads him to areas around the globe that are struggling to deal with devastating events, whether they are caused by nature (the tsunami in Sri Lanka and the aftermath of Hurricane Katrina in New Orleans) or man (the war zones of Iraq, Bosnia, Rwanda, and Niger). In these places, he can't help but feel something, even if it's just the adrenaline coursing though his body.

Throughout the book, Cooper shows evidence of how catastrophic events often bring out the best and the worst in people. The most powerful part of the book, for me, was the section on Hurricane Katrina. Not only did Cooper feel (and convey) the horror and sadness of the events that took place in the weeks after the hurricane, but he finally starts to get pissed (none of the other horrors he'd seen throughout the world seemed to bring out this emotion in him, but seeing the dead being left in the street for days and days in the US was just too much for him). I thought his interviews of the officials (governor, mayor, Senator Mary Landrieu, etc.) charged with keeping the people of New Orleans safe (and who failed, miserably) were great.
Cooper's major fear? That Hurricane Katrina will fade from people's memory and that no steps will ever be taken to correct the failure of the system that occurred during the worst of the storm's aftermath. A justified fear, I think.
Favorite quotes:
"I've always thought that New Year's Eve is proof that human beings are essentially optimistic creatures. Despite hundreds of years of pathetic parties and hellish hangovers, we continue to cling to the notion that it's possible to have fun on that night. It's no. There's too much pressure, too many expectations, too few bathrooms." (p. 14)
"The more you've seen, the more it takes to make you see. The more it takes to affect you. That is why you're there, after all – to be affected. To be changed. In Somalia, I'd started off searching for feeling. In Rwanda, I ended up losing it again." (p. 119)
"My mother once said that she survived the traumas of her childhood because she always felt that inside herself there was a crystal core, a diamond nothing could get at or scratch. I'd felt that same rock form inside me when my father died. In New Orleans, however, it started to crack." (p. 171)
Let's give people a variety of opinions! If you've reviewed this book (or a book by this author), leave me a link to your review in the comments and I'll link to your review, too!