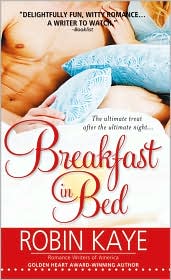 Author: Robin Kaye
# pages: 361
Date published: 2009
Genres: contemporary romance
Rating:
First sentence:
"Rebecca Larsen shouldered open the door of her new Park Slope apartment and surveyed the wreckage."
What's it about? Rich Ronaldi is a complete domestic disaster and when his girlfriend dumps him because he's not "relationship material," he vows to learn to cook and clean to prove her wrong and win her back. But he needs some help, a Domestic Coach, if you will. Luckily, because of a familial mix-up, he's sharing an apartment with Becca Larsen. Unfortunately, she can't stand him, but maybe she'll help him anyway...
Random thoughts:
This is a very cute, fun romance. Rich comes across as sweet and sexy -- a good combination any day. Breakfast in Bed is Kaye's third book and I'll definitely be reading others from her. Luckily, I have her second book,
Too Hot to Handle
, on my bookshelves. I'll have to see if I can find a digital version of her first,
Romeo, Romeo
.
About the Author: Robin Kaye is a professional writer and winner of the Romance Writers of America Golden Heart award for her first novel, Romeo, Romeo. Her romantic comedies feature sexy, nurturing heroes and feisty, independent heroines. She lives with her husband and three children in Mt. Airy, Maryland.
Fun tidbits:
Check out Robin Kaye's web site
Thanks to Danielle of Sourcebooks for sending me a copy of Breakfast in Bed
Recommended for: if you like the funny, sweet, sexy romances of Susan Elizabeth Phillips, Lori Foster, or Jennifer Crusie you'd probably enjoy Robin Kaye's books, too.