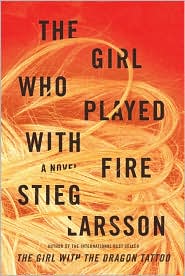 # pages: 503

Date published: 2009

Genres: thriller

Rating:

First sentence:

"She lay on her back fastened by leather straps to a narrow bed with a steel frame."

What's it about?
The Girl Who Played with Fire
is the second book in Larrson's Millennium trilogy. The first book,
The Girl with the Dragon Tattoo
,
introduces
Mikael Blomkvist, a magazine writer and publisher, and
Lisbeth Salander, a brilliant computer hacker and private investigator, of sorts, who has some serious personal issues. Some of these issues come to a head in The Girl Who Played with Fire when three people are murdered and all the evidence points to Lisbeth.
Random thoughts:
I read
The Girl with the Dragon Tattoo
last year for my F2F book club and throughly enjoyed it, so I put this book on my wish list and I wasn't disappointed. It's just as fast-paced, edge-of-your-seat thrilling as the first book was. For some reason, the characters in these books are oddly fascinating for me and I can't stop reading about them once I start! The last book in the trilogy, The Girl Who Kicked the Hornet's Nest, is due out May 25, 2010 and as soon as I can get it in e-book format I'll read that one, too.
Unfortunately, Larsson died in 2004 so that will be the last one :(.
About the Author:

Stieg Larsson, who lived in Sweden, was the editor-in-chief of the magazine Expoand a leading expert on antidemocratic right-wing extremist and Nazi organizations. He died in 2004, shortly after delivering the manuscripts for his Millennium novels, a trilogy of thrillers that became international bestsellers.

Fun tidbits:

Recommended for: anyone who enjoys gripping thrillers. However, if you're squeamish, you might want to look elsewhere. The violence in the Millennium trilogy can get fairly graphic.