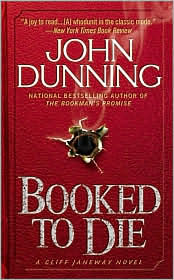 Title: Booked to Die
Author: John Dunning
# pages: 394
ISBN #: 0-7434-1065-3
Genre: mystery
Challenge(s): Bibliography Challenge, Casual Challenge, Baby Steps Challenge
First Sentence: Bobby the bookscout was killed at midnight on June 13, 1986.
Setting: Denver, CO
Cover blurb: Denver homicide detective Cliff Janeway may not always play by the book, but he is an avid collector of rare and first editions. After a local bookscout is killed on his turf, Janeway would like nothing better than to rearrange the suspect's spine. But the suspect, local lowlife Jackie Newton, is a master at eluding the law, and Janeway's wrathful brand of off-duty justice costs him his badge.
Turning to his lifelong passion, Janeway opens a small bookshop—all the while searching for evidence to put Newton away. But when prized volumes in a highly sought-after collection begin to appear, so do dead bodies. Now, Janeway's life is about to start a precarious new chapter as he attempts to find out who's dealing death along with vintage Chandlers and Twains.
Reason for Reading: This is the first book in the Cliff Janeway Bookman series. It's been on my to-be-read shelf for forever.
Random Thoughts: This was a great mystery. The plot twists kept me stumped until the end. I was salivating over the descriptions of different libraries people had in their homes—I want one of those one day! I'm looking forward to reading the rest of the series.
I won't be adding this one to my Book around the States challenge list, though, because, as far as I could tell, this book really could have been set anywhere. I don't think I learned much about Denver.

Favorite character:
Mr. Greenwald, Stanley Ballard's neighbor. How great it would be to have a neighbor who was a passionate about reading as you are. Now that Mr. Greenwald is Cliff's neighbor, maybe we'll see him in future books. He's an old man I'd like to meet!
Rating: A+
Also reviewed by:
A Striped Armchair
In the Louvre
An Adventure in Reading
Confessions of a Book-a-holic