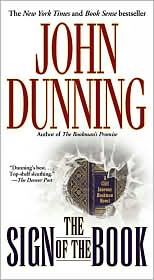 Title: The Sign of the Book
Author: John Dunning
# pages: 513
Date published: 2005
Genre: mystery/thriller
Challenge(s): Series Challenge, Book Around the States Challenge (Colorado)
Setting: Denver & Paradise, CO
First Sentence:
"Two years had passed and I knew Erin well."
Synopsis from Barnes & Noble.com: From New York Times bestselling author John Dunning comes a riveting new Cliff Janeway Bookman novel, combining captivating book lore with page-turning suspense.

Denver bookman and ex-cop Cliff Janeway is enjoying the good life, buying and selling the books he adores as he ekes out a living in his store on seedy East Colfax. And it doesn't hurt that superstar lawyer Erin D'Angelo has joined him as a partner in both business and love.

Erin is a special lady, so it's hard for Janeway to refuse her when she asks a favor. Will he travel to the little mountain town of Paradise, Colorado, to check on one of Erin's girlhood friends who's in deep trouble? Laura Marshall sits in the county jail, accused of murdering her husband, Bobby.

The clincher for Janeway: Bobby Marshall was a book collector, and Janeway can't resist a house full of books any more than he can resist Erin's uncharacteristic request.

Rich with the intricacies of book collecting that only an expert like John Dunning can offer, The Sign of the Book is a beautifully crafted, enthralling novel of suspense from the consummate bookman himself.

Reason for Reading: 4th book in the Cliff Janeway series.

Random Thoughts: With the exception of the first book in this series, Booked to Die, I think The Sign of the Book is my favorite Cliff Janeway book so far. The plot twists were great and I still like Janeway's smart mouth
. With only one more book in the series, I can't wait to see if The Bookwoman's Last Fling can match the suspense in The Sign of the Book.
Rating: 3.5 (very good)