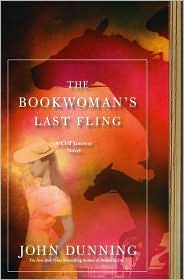 Title: The Bookwoman's Last Fling
Author: John Dunning
# pages: 337
Date published: 2006
Genre: mystery
Challenge(s): series challenge
Setting: Idaho/California
First Sentence:
"The morning was angry but I was cool."
Synopsis from Barnes & Noble.com: In another enthralling bestseller by "master yarn spinner" (Chicago Sun-Times) John Dunning, rare book dealer and relentless private eye Cliff Janeway unravels a deadly plot marked by stolen classics and stable secrets.

When wealthy horse trainer H. R. Geiger dies, Denver bookman Cliff Janeway encounters the legacy of the man's wife, Candice, a true bookwoman who left behind an assortment of rare first-edition children's books. Sent to assess the collection, Janeway soon finds that several titles are missing, replaced by cheap reprints -- while other hugely expensive pieces remain. Why would a thief take one priceless book and leave an equally valuable volume on the shelf? Suspecting foul play, Janeway follows the trail of Candice's shadowy past to California's Golden Gate and Santa Anita racetracks, where he signs on as a racehorse hot walker. Eavesdropping on the chatter among the hands, he doesn't like what he hears. And when he goes to the house where Candice died to look for answers, Janeway finds much more than he bargained for.
Reason for Reading: 5th book in the Cliff Janway bookman series
Random Thoughts: This Janway novel had too much about horses, not enough about books. Glad the series is over, I'm not sure I would have read many more.
Favorite quote: "[Pompeii Ruler] was getting no confidences at this distance-the Form doesn't cut racehorses any slack for headaches, or mood swings, menopause, or the occasional bad-mane day." (p. 121)
Rating: 2.5 (Okay)