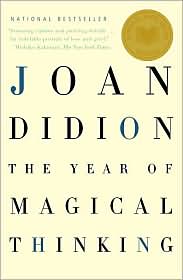 Title: The Year of Magical Thinking
Author: Joan Didion
# pages: 227
Date published: 2005
Genre: non-fiction (memoir)
Challenge(s): 888 (Non-fiction), In Their Shoes, Book Award Reading Challenge (2005 National Book Award)
Rating: very good

First few sentences:
"Life changes fast. Life changes in an instant. You sit down to dinner and life as you know it ends."
Synopsis: The Year of Magical Thinking is a book about putting your life back together again when the unthinkable happens. Joan Didon and John Dunne's only child, Quintana Roo, is deathly ill in the ICU of Beth Israel Medical Center in Manhattan. And that's not the worst of it. As the book opens, John, Joan's life and career partner for almost 40 years and the father of her child, dies of a massive heart attack—leaving her to not only face their child's illness, but also the rest of her life without him.
The Year of Magical Thinking chronicles Joan's life the year after John's death. She talks about the strange things you tell yourself when you've lost someone terribly close to you. For example, you can't give their shoes away because they'll need them when they come back and they'll be mad at you for giving them away (this happened to me after my grandmother died, too). Or wondering if she'd just hopped on a plane to the West Coast quickly enough, if maybe, somehow, John wouldn't be dead on Pacific Coast time. Magical thinking, indeed, but it happens.
I can't say that I enjoyed this book exactly. It is a heartfelt, personal chronicle of trying to understand and deal with the loss of a mate and it made me go places I didn't really want to go (boy, I hope I go first). But it was an emotional read and, surprisingly, not depressing at all. One thing is for sure, I won't forget The Year of Magical Thinking anytime soon.
Random Thoughts:
The Year of Magical Thinking has been adapted for Broadway. Vanessa Redgrave plays Joan (http://www.magicalthinkingonbroadway.com/).
Screenplays by Joan Didion and John Gregory Dunne

The Panic in Needle Park (1971)
Play It As It Lays (1972) (based on her novel)
A Star Is Born (1976)
True Confessions (1981) (based on John Gregory Dunne's novel)
Up Close & Personal (1996)
Care's Online Book Club has a great review of this book, too!