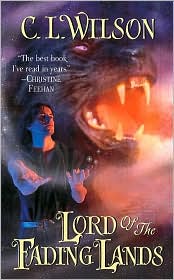 Title: Lord of the Fading Lands
Author: C.L. Wilson
# pages: 402
Date published: 2007
Genre: fantasy romance
Challenge(s): Themed Reading Challenge, Summer Reading Challenge, 888 (books written by TARAns), Romance Challenge, 2008 TBR Challenge
Rating:

(highly recommended)
Setting: Celieria
First Sentence:
"The tairen were dying."
Synopsis: Rain Tairen Soul, the King of the Fey, leaves the Fading Lands for the first time in a thousand years to claim his truemate, Ellysetta Baristani, a Celierian woodcarver's daughter.
Random Thoughts:
I don't usually go in for fantasy romance, but Lord of the Fading Lands is an exception. Well written and terribly romantic, I loved this book and can't wait to read the second book in the series, Lady of Light and Shadows. Lady continues the story of the Tarin Soul and his truemate, Ellie. If you like romance or fantasy of any kind, you'd probably like Lord of the Fading Lands, too.
I liked the fact that the tairns are big, pretty (but fierce) cats ;>). OK, they're cats with wings, but still…very cool.
Author's web site: http://www.clwilson.com/
You can read excerpts of each book in the Fading Land series here: http://www.clwilson.com/books1.htm
Let's give people a variety of opinions! If you've reviewed this book (or a book by this author), leave me a link to your review in the comments and I'll link to your review, too!