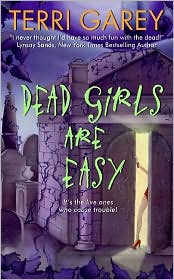 Title: Dead Girls Are Easy
Author: Terri Garey
# pages: 372
Date published: 2007
Genre: paranormal romance
Challenge(s): Themed Reading Challenge, Summer Reading Challenge, 48-hour Book Challenge, 888 (books written by TARAns), Romance Challenge, 2008 TBR Challenge
Rating:
(excellent)
Setting: Atlanta, GA
First Sentence:
"She's coding. Give me another round of epi, stat."
Synopsis: Nikki Styx has experienced a NDE (near death experience) and now, whether she wants to or not, she can see (and talk to) dead people. Dead people who want Nikki to help them resolve their problems so they can move on. Dead Girls Are Easy is laugh-out-loud funny and just an all-around fun read. It reminds me of Undead and Unwed (without the vamps).
Random Thoughts:
Author's web site complete with excerpts: http://www.tgarey.com/
Looks like another Nikki Styx book is out July 2008: A Match Made in Hell. And another in April 2009: If You Got It, Haunt It. I'll have to get those, too. The titles are just too fun to pass up ;>).
Let's give people a variety of opinions! If you've reviewed this book (or a book by this author), leave me a link to your review in the comments and I'll link to your review, too!