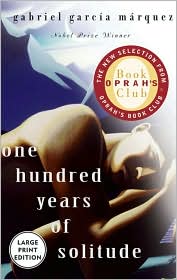 Title: One Hundred Years of Solitude
Author: Gabriel García Márquez
# pages: 448
Date published: 1970
Genre: Classic
Challenge(s): Book Awards Reading Challenge (1982 Nobel Prize in Literature); 888 (trade paperbacks I own); A Novel Challenge Mini Challenge #7 (classic)
Rating: (not my favorite)
Setting: Latin America
First Sentence:
"Many years later, as he faced the firing squad, Colonel Aureliano Buendía was to remember that distant afternoon when his father took him to discover ice."
Synopsis: One Hundred Years of Solitude tells the story of the rise and fall, birth and death of the mythical town of Macondo through the one hundred year history of the Buendía family.
Random Thoughts: In turns confusing and brilliant, I don't think I've ever read a more odd but engaging book. I didn't hate One Hundred Years of Solitude and I'm not sorry I read it, but I'm also glad that it's over. I doubt I'll do it again. I know a lot of people love Marquez's writing in general and One Hundred Years of Solitude in particular, but this is not destined to become one of my favorite books. I prefer books with more plot and less meandering. In fact, the meandering sort of drove me crazy and by the time I got close to the end of the book, I was desperately counting how many pages I still had left to read. I am curious about Love in the Time of Cholera, though. Anyone read both books? Care to compare and contrast? Is it possible that someone who didn't like One Hundred Years of Solitude might like Love in the Time of Cholera? Or should I just give Love in the Time of Cholera a pass?
Let's give people a variety of opinions! If you've reviewed this book (or a book by this author), leave me a link to your review in the comments and I'll link to your review, too!