Lately, I've been trying to read my way through Nora Roberts' backlist. A feat, let me tell you, this woman give a new meaning to prolific ;>). I've just finished the Stanislaski family series. Yuri and Nadia Stanislaski fled across a mountain range in a wagon to escape the Ukraine with their 3 oldest children, Natasha, Mikhail, and Alex. They settled in Brooklyn, New York where Yuri found work as a carpenter and had another child, Rachel. The first 4 books of this 6 book series tells the story of one of Yuri and Nadia's children. The last two books tell the story of two of their grandchildren. In order, here are the books: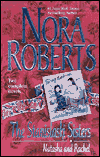 Title:
Taming Natasha
# pages:
223
Date published:
1990
Challenge(s):
Summer Reading Challenge, 888 (Nora Roberts and Bookcrossing categories)
Taming Natasha is the story of Natasha Stanislaski a former ballerina and toy store owner. She meets widower Spencer Kimball, a composer and music professor at the local college, when he comes into her store searching for a toy for his five-year-old daughter, Freddie.
Title: Luring a Lady
# pages: 221
Date published: 1991
Challenge(s): Summer Reading Challenge, 888 (Nora Roberts category)
It's Mikhail Stanislaski's turn in Luring a Lady. As the oldest Stanislaski child, Mikhail remembers his family's escape from the Ukraine the best. He is now an artist and a carpenter in Manhattan. There he meets Sydney Hayward, the woman who owns the building he lives in. After convincing Sydney to visit the building her company has neglected, Sydney finds the loving, close-knit family she's looking for.
Title: Falling for Rachel
# pages: 209
Date published: 1993
Challenge(s): Summer Reading Challenge, 888 (Nora Roberts and Bookcrossing categories)
Tough, no-nonsense public defender Rachel Stanislaski meets Zack Muldoon when she's assigned to his step-brother's burglary case. The court demands that the lawyer and the bar owner work together to keep the 19-year-old Nick out of trouble.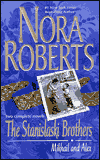 Title: Convincing Alex
# pages: 210
Date published: 1994
Challenge(s): Summer Reading Challenge, 888 (Nora Roberts category)
Detective Alexi Stanislaski arrests Bess McNee for soliciting only to find out that she is actually the writer for a popular soap-opera. She asks him to help her with her research. How can he say no?
Note: Book #1, Taming Natasha, and book #3, Falling for Rachel, were re-released in one volume called The Stanislaski Sisters: Natasha and Rachel in 2001. And books #2 and #4, Luring a Lady and Convincing Alex, respectively, were reissued in a single volume called The Stanislaski Brothers: Mikhail and Alex in 2000. I read the compilations for these four books. The last two books, Waiting for Nick and Considering Kate, I managed to find the original Silhouette Special Edition books.
Title: Waiting for Nick
# pages: 244
Date published: 1997
Challenge(s): 888 (Nora Roberts category), 2008 TBR Challenge
This is the story of grown-up little girl, Freddie Kimball, from Taming Natasha and Nick Muldoon, the punk step-brother, from Falling for Rachel. Freddie fell in love with Nick the first time she saw him in her grandparent's house. At the time, her aunt Rachel was Nick's attorney and Freddie was only 13-years-old. Now 24, Freddie decides to finally go after her man. Not only does the whole crazy Stanislaski crew make an appearance in this book, but the O'Hurleys, another of Nora Roberts' families (from a different series) also made a brief appearance. That was fun little surprise. Unfortunately, I haven't located all of the O'Hurley books, so I haven't read that series yet.
Title: Considering Kate
# pages: 242
Date published: 2001
Challenge(s): 888 (Nora Roberts category), What's in a Name Challenge (first name)
Considering Kate is the last of the Stanislaski family books. Kate is Spencer Kimball and Natasha Stanislaski Kimball's (of Taming Natasha) youngest daughter. A prima ballerina, Kate decides to open her own ballet school in her small hometown in West Virginia. She hires Brody O'Connell to renovate the building and falls in love with him and his 6-year-old son, Jack.
Rating: (The whole series was very good.)
Setting: Manhattan, Brooklyn, West Virginia
Random Thoughts: I enjoyed spending time with the noisy, unruly Stanislaski family. Reading the books back to back (to back), allowed me to really get to know the family. The whole series is very good, but I tended to like each book in the series a little better than the last. So, in the end, my favorite book was Considering Kate. But I think that's probably because I was attached to the family by then. The sense of family and community are usually what draws me to Nora Roberts' books to begin with. I enjoyed spending time with the characters she created in this series and I'm glad they all got their happy-ever-after endings ;>).