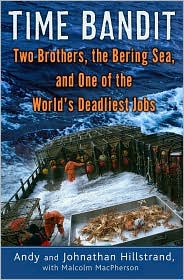 Title: Time Bandit
Author: Andy and Johnathan Hillstrand
# pages: 227
Date published: 2008
Genre: nonfiction (memoir)
Challenge(s): Summer Reading Challenge, 48-Hour Book Challenge, In Their Shoes, personal science challenge, Book Around the States (Alaska)

Rating:

(very good)
Setting: Homer, Alaska and the Bering Sea
First Sentence:
"I am a fisherman, an Alaskan fisherman, and a Bering Sea crab fisherman with thirty-seven years on commercial boats."
Synopsis: This is a book written by Andy and Johnathan Hillstrand, of Deadliest Catch fame. If you've ever seen the show, the book is very similar. In it, Andy and Johnathan share sea stories (some funny, some horrifying), some stories from their childhood, and the reasons they continue to fish day after day, year after year.
Reason for Reading: Library Thing Early Review book
Random Thoughts:
I found this book entertaining and fascinating. If you've ever spent any time on the water or around boats, there are some things you can probably relate to. In many ways, the book is like listening in on the guys at the bar swapping tall sea tales and any boater can tell you how much fun that is ;>). Yes, these guys are rougher and their way of life is much more extreme than my time on boats, but I get the underlying need to be at sea. However, if I ever find myself in the Bering Sea, I have made a major navigational error!
When this book was written, diesel fuel was $2.60/gallon. The Time Bandit holds 20,000 gallons of gas that lasts about a month. Now that diesel is over $4.00/gallon, that's $80,000 a month! That's gotta hurt.
Time Bandit's web site: http://www.timebandit.tv/
Deadliest Catch's web site: http://dsc.discovery.com/fansites/deadliestcatch/deadliestcatch.html
Favorite scene: Johnathan describes the coffin he and his brothers made for his father. It was 6 foot 9 inches and shaped like a boat ;>). Along with their father's body, the boys added
"a can of Pabst Blue Ribbon, a Louis L'Amour paperback, a pack of Luckies, which had killed him, and notes that we wrote him that we slipped in his pockets." (p. 54)
Let's give people a variety of opinions! If you've reviewed this book (or a book by this author), leave me a link to your review in the comments and I'll link to your review, too!