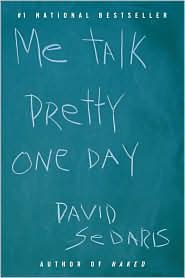 Title: Me Talk Pretty One Day
Author: David Sedaris
# pages: 272
Date published: 2000
Genre: nonfiction (humor)
Challenge(s): Summer 2008 Reading Challenge
Rating:

(good)
Synopsis: Me Talk Pretty One Day is a collection of 27 autobiographical essays by David Sedaris, many of which focus on language in one way or another. From the beginning story in which a lisping, 5th grade David uses a thesaurus to help him eradicate all words containing the letter 's' from his vocabulary to later essays when a barely French-speaking David decides to use only plural French words so that he doesn't have to figure out what gender a word might be (forcing his partner, Hugh, to ban him from grocery shopping until his French improves).
Reason for Reading: St. Pete book club July pick
Random Thoughts: This is the first time I've actually read a book by Sedaris. I've always listened to the audio versions of his books, which he narrates. I have to say, I enjoy the audio version better. Something about his voice or inflection makes them so much funnier.
Favorite quotes:
"My mother was, for the most part, delighted with my brother and regarded him with the bemused curiosity of a brood hen discovering she has hatched a completely different species." (p. 62)
"Every day we're told that we live in the greatest country on earth. And it's always stated as an undeniable fact: Leos were born between July 23 and August 22, fitted queen-size sheets measure sixty by eighty inches, and America is the greatest country on earth. Having grown up with this in our ears, it's startling to realize that other countries have nationalistic slogans of their own, none of which are "We're number two!"" (p. 157)
"If a person who constantly reads is labeled a bookworm, then I was quickly becoming what might be called a tapeworm." (p. 184)
"…nothing is more disgusting than a glass of milk, especially French milk, which comes in a box and can sit unrefrigerated for five months, at which point it simply turns into cheese and is moved to a different section of the grocery store." (p. 250)
Let's give people a variety of opinions! If you've reviewed this book (or a book by this author), leave me a link to your review in the comments and I'll link to your review, too!