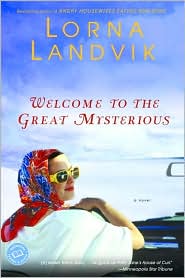 Title: Welcome to the Great Mysterious
Author: Lorna Landvik
# pages: 324
Date published: 2000
Genre: women's fiction
Challenge(s): Casual Reading Challenge, 888
Rating:
(very good)
Setting: Minnesota
First Sentences:
"All right, so I'm a diva. There are worse things—a mass murderer, a bigot, a telephone solicitor."
Synopsis (from Barnes&Noble.com):
"For those of you who don't know me, I am Geneva Jordan, star of stage, screen, and television. (If you didn't see me accept my Tony, I'm sure you heard my voice singing the 'Sweetie Cat' litterbox and Chef Mustachio Frozen Pizza jingles.) . . ."

Now
Geneva
Jordan
has a command performance in
Minnesota
, a challenging role set in reality. Making her entrance with her usual flair, she is coming to the rescue of her twin sister, Ann, and Ann's husband, Riley. They desperately need someone to care for their thirteen-year-old son, Rich, a boy with Down's syndrome, while the couple takes their first-ever vacation away from him. Though she and Ann are as different as night and day ("I being night, of course, dark and dramatic"),
Geneva
remembers she had a family before she had a star on her door. But so accustomed is she to playing the lead, finding herself a supporting actress in someone else's life is strange and unexplored territory.
Leaving behind the bright lights of
Manhattan
, a tumultuous relationship with a charming (if cheating) Brit—whose tastes run to doe-eyed ingénues—
Geneva
heads to
Deep Lake, Minnesota
. Vowing to have the part of June Cleaver (minus the pearls) down flat, she gracefully steps into her role with a determination that she will perform with great panache even if she bombs at navigating the perils of domesticity.
However, life,
Geneva
soon learns, doesn't always follow even the best of scripts. And just as the guileless Rich and the eccentric folks of
Deep
Lake
begin to open her heart, an unexpected tragedy forever changes the lives of those she has come to care about, forcing her to redefine her own role as well.
Random Thoughts: I picked up this book because I really liked Landvik's Angry Housewives Eating Bon-Bons. I was a little nervous about the main character being a Broadway star, but Landvik does a great job at not making her a boring, predictable character. There were parts of the book that were laugh-out-loud-funny and other parts that brought a tear to my eye. This is a book that makes you think what's important in life and whether or not you're doing what you should to get what you need.
Let's give people a variety of opinions! If you've reviewed this book (or a book by this author), leave me a link to your review in the comments and I'll link to your review, too!