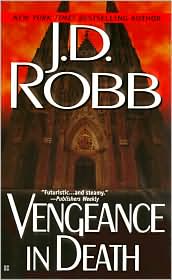 Title: Vengeance in Death
Author: J.D. Robb
# pages: 357
Date published: 1997
Genre: futuristic romance
Series: #6 in Eve Dallas series
Challenge(s): 888 Challenge, Shelfari's Readers of Romance Fall Challenge
Rating:
(excellent)
Setting: NYC, 2058
First Sentence:
"The business of murder took time, patience, skill, and a tolerance for the monotonous."
Synopsis (from Barnes&Noble.com): He is an expert with the latest technology . . . a madman with the mind of a genius and the heart of a killer. He quietly stalks his prey. Then he haunts the police with cryptic riddles about the crimes he is about to commit - always solved moments too late to save the victims' lives.

Police lieutenant Eve Dallas found the first victim butchered in his own home. The second lost his life in a vacant luxury apartment. The two men had little in common. Both suffered unspeakable torture before their deaths. And both had ties to an ugly secret of ten years past - a secret shared by none other than Eve's new husband, Roarke.
Random Thoughts: I really enjoyed this Eve Dallas story. The murders are connected to Roarke's past making them much more personal for Eve. On to book #7…
Let's give people a variety of opinions! If you've reviewed this book (or a book by this author), leave me a link to your review in the comments and I'll link to your review, too!