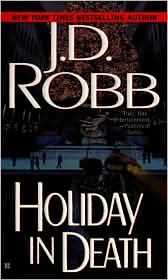 Title: Holiday in Death
Author: J.D. Robb
# pages: 308
Date published: 1998
Genre: futuristic romance
Series: #7 in the Eve Dallas In Death series
Challenge(s): 888 Challenge
Rating:
(very good)
First Sentence:
"She dreamed of death."
What Is It All About? This time, Eve Dallas pits her wits against a sick Santa around the holiday season.

Random Thoughts: Fun, enjoyable read. I was very surprised at the ending. A good thing in a mystery ;o). I'm slowly working my way through this series. I hope to get to Silent Night, a collection of novellas that includes one of the In Death stories, before the end of the month. It's also holiday themed.
Fun tidbits:
Recommended for readers who like: mysteries, especially serial killer ones