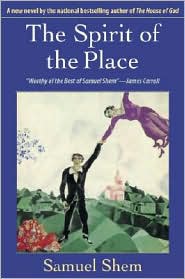 Title: The Spirt of the Place

Author: Samuel Shem

# pages: 334

Date published: 2008

Genres: literary fiction

First sentence:
"Even a shy American can be happy in Italy, and Orville Rose was about as happy as a childless man can be."

What's it about? Orville Rose, a doctor with Doctor Without Borders in Italy, is called home to upstate New York after his mother's death. He goes to collect his inheritance, but his mother has left a catch in her will. In order to collect, Orville must live in her house for a year and thirteen days. He reluctantly decides to stay and, in the process, reconnects with the man who was his mentor and the man who was his childhood bully. While he's there, he winds up taking over his mentor's practice and reexamining his own life.

Random thoughts: Such an odd book. It kind of reminded me of a episode of Seinfeld -- nothing much happens (or at least not quickly), but it's so compelling you can't help but keep reading (or watching, as the case may be). In places amusing and in others confusing, the book doesn't attempt to solve all the mystery or clear up all of the misunderstandings between the characters and, in that, was very life-like. Overall I found it an interesting, if not terribly exciting, read.

Favorite quote:

"Orville thought he might have a chance to rest a little, but they yanked him out of bed that very morning and wheelchaired him down to emergency to tend to a 300-pound young man whose giant red-and-white checkerboard hunting jacket made him look like a billboard for Purina Dog Chow in a space warp. The kid was a hunter who had tracked a deer into the swap and sunk in. He had to be sucked out by the Schwermann Well Driller. His core body temperature was 87. Despite efforts to fricassee him back up to livable, he died." (p. 92-93)

Fun tidbits:

Samuel Shem is the pen name for Stephen Bergman. He also wrote a novel titled The House of God in 1978 about the trials of medical internship that is required reading in many medical schools. He's been on the faculty of Harvard Medical School for over 30 years.
The Spirt of the Place was the winner of a 2009 Silver Ippy (a National Independent Book Publishers Award) for best literary fiction novel.
I received this book as part of LibraryThing's Early Reviewers program (although I'm so late getting around to reading and reviewing this book that it is no longer an "early review"!)