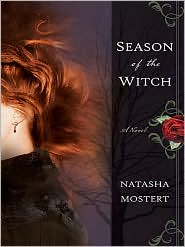 Season of the Witch is set in modern-day London, but this psychological mystery/thriller has a decidedly creepy, gothic feel. The story begins when Gabriel Blackstone, a computer hacker with psychic abilities, is asked by his former lover to "see" what has happened to her missing stepson before her ailing husband, and the young man's father, dies. At first, Gabriel tries to refuse, but he does ultimately take a peek inside the missing man's head. What he sees is Robert's obsession with two beautiful, mysterious sisters--

Minnaloushe and Morrighan Monk. He also sees Robert's death at the hands of one of the sisters. But which one? In an attempt to unravel the mystery, Gabriel is also drawn to the sister's secret, magical world. If you're looking for something a little spooky

that mixes the genres of thriller, suspense, and erotic romance with a healthy dash of the paranormal, Season of the Witch might just be what you're looking for (this would be a perfect read for Carl's fall RIP challenge).