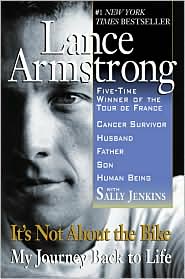 Title: It's Not About the Bike
Author: Lance Armstrong with Sally Jenkins
# pages: 275
Date published: 2000
Genre: nonfiction (memoir)
Challenge(s): In Their Shoes Reading Challenge
Rating:

(very good)
First Sentence:
"I want to die at a hundred years old with an American flag on my back and the star of Texas on my helmet, after screaming down an Alpine descent on a bicycle at 75 miles per hour."
Synopsis: It's Not About the Bike is the story of Lance Armstrong's childhood in Texas, his startling ascent into the world of world-class cycling at a very young age, his battle with testicular cancer, his comeback to win the Tour de France, and finally, the start of his own family. Diagnosed at the age of 25 with stage III testicular cancer that had spread to his lungs and brain, no one, especially not his doctors, really expected Armstrong to survive the disease, much less go on and win one of the most prestigious bike races in the world. It's Not About the Bike is an incredible, inspirational, unforgettable story about the limits of the human body and spirit.
Favorite quotes:
"The more research I did, the better I felt my chances were—even though what I was reading suggested that they weren't that good. But knowledge was more reassuring than ignorance: at least I knew what I was dealing with, or thought I did anyway." (p. 92)
"The irony was, the worse I felt, the better I got. That was the chemo for you." (p. 145)
When his wife Kik (pronounced Keek) went with Lance to one of his monthly check-ups:
"As we sat there, we both thought the same thing: I've finally found the love of my life, the person who means everything in the world to me, and if anything takes that away now I will come unglued." (p. 178)
"I am very firm in my belief that cancer is not a form of death. I choose to redefine it: it is a part of life. One afternoon when I was in remission and sitting around waiting to find out if the cancer would come back, I made an acronym out of the word: Courage, Attitude, Never give up, Curability, Enlightenment, and Remembrance of my fellow patients." (p. 274)
Also reviewed by:
Book In Hand