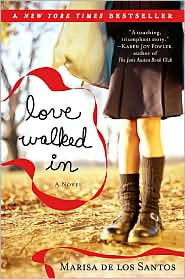 Title: Love Walked In
Author: Marisa de los Santos
# pages: 307
Date published: 2005
Genre: fiction (love story)
Challenge(s): Raved-about reads
Rating:

(highly recommended)
Setting: Philadelphia
First Sentence:
"My life—my real life—started when a man walked into it, a handsome stranger in a perfectly cut suit, and, yes, I know how that sounds."
Synopsis: Cary Grant is Cornelia Brown's idea of the perfect man, so when Cary-Grant-look-alike, Martin Grace enters the café Cornelia manages she is determined to love him. Meanwhile, Clare Hobbes, an eleven-year-old little girl is dealing with her mother's mental breakdown and must eventually seek the help of her estranged father. The intersection of Cornelia and Clare's lives will change both of their futures forever.
Reason for Reading: Marisa de los Santos' newest novel, Belong to Me, also features Cornelia Brown as the main character. I wanted to read this one first before moving on to Belong to Me.
Random Thoughts: The author's bio says she's an acclaimed poet and you can really tell—the language is beautiful. There are many references to classic books and films throughout the book, too.
Favorite quotes:
"Maybe love comes in at the eyes, but not nearly as much as it comes in at the ears, at least in my experience. As we talked, lights flicked on inside my head; by the end of the night, I was a planetarium." (p. 40)
"If nothing mattered to you, nothing could change you into someone terrible and cruel. Then Clare turned to a clean sheet [of notebook paper] and began a list: Miss Havisham, Aunt Sponge and Aunt Spiker, Miss Minchin, Uriah Heep, Voldemort, Snape. People who had let life make them hateful. The characters no one wanted to be." (p. 64)
"Clare lay on her side on the guestroom bed in her father's apartment, not sleeping, trying to imagine herself as a piece of driftwood. She tucked in her knees and circled them with her arms, pulling in tight, making herself small. She wanted every part of her body to be touching another part of her body so that she was aware of all her edges, all the places Clare ended and the rest of the world began." (p. 99)
"Cornelia lives in her body just like I live in mine, Clare understood suddenly. She's the main character in her story, just like I'm the main character in mine." (p. 178)
Also reviewed by: